Shipping Information
Orders with Any Backordered Items
Orders placed where one or more of the products are backordered, will be shipped when we receive all products to complete the order. Expedited shipping for available items while waiting for backorders may incur additional freight.
Free Economy Shipping on Orders over $199
Orders over $199 qualify for free economy shipping. Qualifying purchases are based on pre-tax, post-discount amount. Certain restrictions apply:
Free shipping offer applies to economy shipping within the 48 contiguous States
Free shipping offer only applies to purchases with a total weight (combined weight if multiple items) of 25 lbs. or less. Promotion valid on combined order values over $199. Promotion does not apply to freight/truck-line, oversized items, or items shipped outside of the US. Excludes shipments to Hawaii and Alaska. Tool Authority reserves the right to negate the free shipping promotion on items that are shipped for free due to technical errors, in which case we will contact the customer as quickly as possible to get the issue resolved.
No adjustments can be made to prior purchases
Orders $199 and under are subject to standard shipping rates & fees, and are subject to change without notice
P.O. Boxes/APO Addresses
Due to shipping constraints, we cannot ship to P.O. boxes or APO addresses
I see you offer various UPS shipping options. What do they all mean?
UPS Next Day Air: Next Business Day — Delivery typically by 10:30 a.m.
UPS 2nd Day Air: 2 Business Days — Delivery typically by end of day or your normal drop off time
UPS 3 Day Select: 3 Business Days — Delivery by end of day or your normal drop off time
UPS Ground: 1-5 Business Days — Delivery based on distance from shipping location to delivery location
A shipping delay due to an "Act of God," weather, or an unusual circumstance is non-refundable.
Freight Shipping
ToolAuthority.com stocks many industrial and commercial grade tools and accessories. Some of these items are large, heavy and/or bulky (i.e. Threaders, Hoists, Generators, etc.). Such items may not be able to be shipped via regular ground methods such as UPS and will require a Freight or Truck delivery.
All free freight promotions apply only to items that can be shipped via UPS Ground. All other shipments via Freight or LTL methods are not eligible for free shipping. Due to shipping constraints, Tool Authority does not offer freight shipping to Alaska, Hawaii, or Puerto Rico.
Lift Gate Service
For freight deliveries, you have the option of adding a liftgate (the device that lowers a product from the truck to ground level) to your delivery. Tool Authority recommends adding liftgate service for freight deliveries exceeding 100lbs. if you do not have a loading dock or forklift at the delivery address. In most cases, additional charges will apply for liftgate service.
Requesting liftgate service after ordering may result in additional charges and delays.
When will my order ship?
The majority of orders ship the same day if items are in stock and the order is placed by 1:30PM EST Monday through Friday. The exception to this is freight orders, which must be received by 10am in order to qualify for same-day shipping. We have dedicated staff to pick orders that are placed before the cut off time. You may also call for special attention considerations; we make every effort to accommodate your needs.
Guaranteed delivery times are for the amount of time the package is spent in transit. Processing orders for delivery takes time which is not included in determining the amount of time the package is in shipment.
Special shipment options such as UPS Next Day Air or UPS 2 Day, for example, cause packages to be flagged — we do all that is possible to ship your product quickly.
A shipping delay due to an "Act of God," weather, or an unusual circumstance is non-refundable.
How long does UPS Ground take to my location?
At this time, most of our products ship out of our Orange, CT, and Grand Rapids, MI facilities. Based on item availability, we try to ship from whichever facility is closest to your shipping address.
From our Orange, CT warehouse: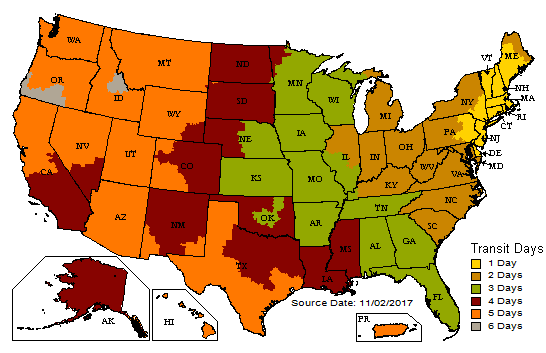 From our Grand Rapids, MI warehouse: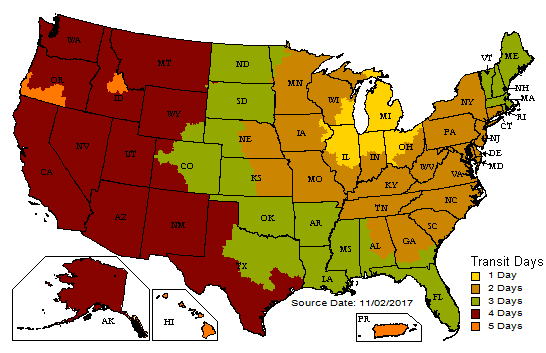 Other factors to consider:
If your order requires consolidation, then the order will require some lead time. However, you will be notified of the order status via email or a phone call.
If the product is a Dropship (aka Direct Ship or Vendor Ship), then the time table is different and is usually specified in the product description page. Also you may call us for an estimated time frame; we handle drop ships every day and have a good idea on the time frames.
Carriers Used
Tool Authority uses UPS for delivery of parcel packages. In some instances, when the Economy shipping method is selected, a USPS carrier via the UPS SmartPost delivery system might deliver your package.
All Standard, Express, Priority, and Premium shipping services will typically use the traditional UPS delivery system.
Tool Authority has the right to change or use alternate carriers at their discretion.
Where is Tool Authority Located?
Our main warehouses are located in Orange, Connecticut and Grand Rapids, Michigan.
Why do some items say, "Call to Order"?
When an item is discontinued or if it is too large to ship via UPS Tool Authority displays "Call to Order". If the item is discontinued and no longer available it will be noted on the product and typically will list the new replacement item. If the item is too large, such as Knaack storage boxes, we ask that our customers call and speak to customer service so that we may obtain a freight quote for the item you are interested in. This way our customers get charged actual shipping and don't get stuck with a flat rate that may be overpriced.
Does Tool Authority stock the items they sell?
Currently, all tools we sell are new and in stock. Although we maintain a huge inventory throughout various warehouses, we will occasionally send items directly from the manufacturer or back order the product into our warehouse.
Our site does keep accurate inventory. However, for up to the minute stock, feel free to contact us
Does Tool Authority ship to Canada?
No, unfortunately we do not ship to Canada at this time.
Yes. We ship to Canada through UPS.
There are fees associated with Canadian shipments like duties, taxes, brokerage fees. Canadian customers are responsible for paying these added fees beyond the shipping paid to Tool Authority.